Did you know that more than 1,000 different amphibians, reptiles, birds and mammals are considered endangered, threatened or rare in Indiana according to the Indiana Natural Heritage Data Center?
In fact, each county in WIPB-TV's viewing area has a comprehensive list of its own.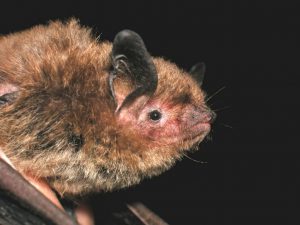 WIPB focused its documentary lens on several of these endangered, threatened and rare species throughout east central Indiana for "Rare INdiana," a project that includes digital content, a photo exhibit, nature walks and much more.
This project, made possible with a grant from WGBH, is in conjunction with the PBS program "RARE – Creatures of the Photo Ark," which premiered in July on WIPB.
To show the importance of preserving and protecting these rare animals for future generations, WIPB-TV and its partners created a 30-minute special to air on WIPB.   
"Rare INdiana: Protecting Our Smallest Hoosiers" premiered in December on WIPB.
"Rare Indiana" took a look at some of the Indiana species on the state and federal rare, threatened and endangered lists.
"We visited with Dr. Tim Carter from Ball State University, who is doing extensive research on the white nose syndrome affecting bats and to talk about the Indiana Bat," said "Rare" producer Dottie Kreps. "We went along on bat netting efforts in Southern Indiana and along the White River.
"We also talked with Dr. Kamal Islam, from Ball State University, about the beautiful little bird called the Cerulean Warbler, which makes Indiana its home for a few months on its way to Central and South America."
Megan Dillon, an Urban Wildlife biologist with the Indiana Department of Natural Resources, is also featured in the program, talking about protecting and preserving habitats in your backyard and other residential areas. And Brad Feester, the director of the Indiana State Wildlife Action Plan ( SWAP), shares what is going on statewide to help in the management, conservation and enhancement of habitats and wildlife populations.
WIPB also partnered with Gordy Fine Art & Framing, Red-Tail Land Conservancy, Cope Environmental Center and Hayes Arboretum for preview screenings of "RARE – Creatures of the Photo Ark," nature photo walks and a Rare INdiana Finds photo contest/exhibit.
The exhibit will open in Jan. 8 at Kennedy Library in Muncie. An opening reception is set for 3-5 p.m. Saturday, Jan. 13. For more about exhibit, click here.
For more information about the project, contact Community Engagement Coordinator Michelle Kinsey at (765) 285-5887.